TUBER RUFUM Pico
Melethemata inauguralia. De fungorum generatione et propagatione 80, without illustration (1788)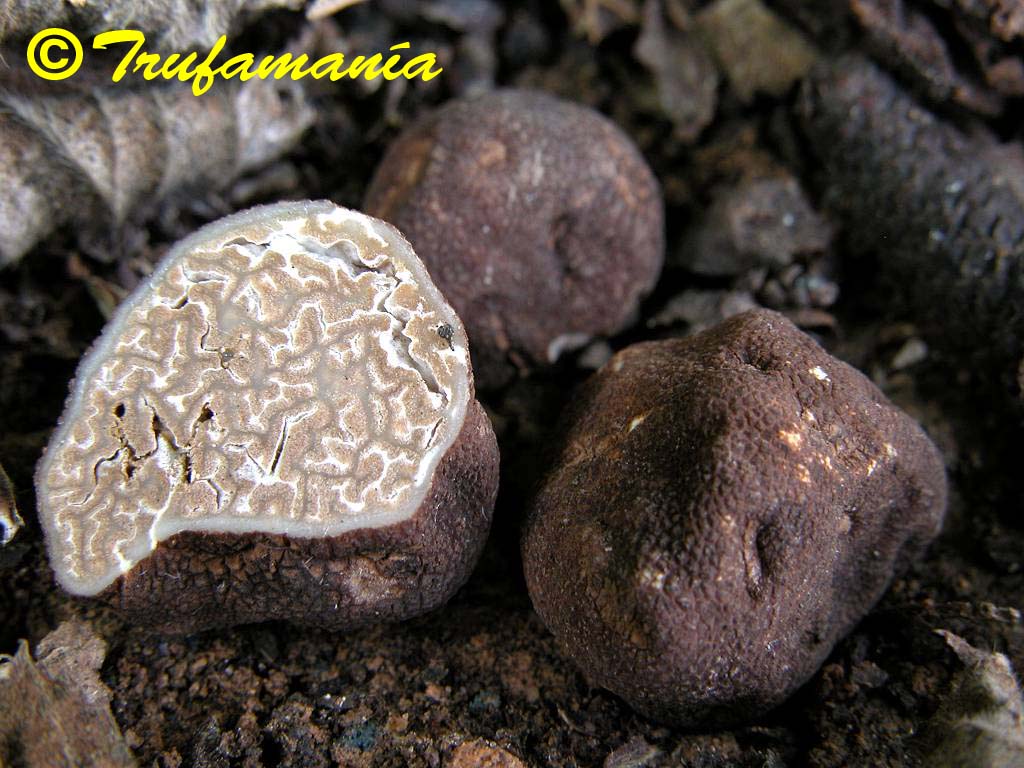 (Click on the picture to see more images)
Synonyms:
Tuberum tertium genus Mattioli (1544), Di Pedacio Dioscoride Anarzabeo sensu Fries (1823)
Tuber rufum Pollini (1816), Plant. Nov. 33 sensu Fries (1823)
Tuber rufum Pollini: Fries (1823), Systema mycologicum 2 Pt. II: 292
Tuber cinereum Tul et C. Tul (1844) Giorn. Bot. Ital. anno 1, 2 (1): 62
Tuber bonneti Roumeguère (1882), Rev. Mycol. 4(14): 76, t. 26 f. 1
Tuber rufum Pico var. oungloun Bonnet in Roumeguère Funghi gallici exsiccati nº 2816
Tuber lucidum Bonnet (1884), Rev. Mycol. 6(23): 139
Tuber caroli Bonnet (1885), Rev. Mycol. 7: 8
Tuber rutilum R Hesse (1894), Die Hypogaeen Deutschlands 2: 13, t. 16 f. 5
Tuber rufum Pico var. rufum forma rufum Montecchi & Lazzari (1993), Atlante Fotografico di Funghi Ipogei (Trento): 191 (1993)
Macroscopic characters:
Ascomata: hypogeous, subglobose or irregular in form, sometimes with a basal depression, 1–4 cm in size, reddish brown, yellow brown, blackish, areolate or minutely warted. Warts minute, pyramidal, flattened.
Gleba: hard, solid, whitish at first, becoming light-brown, dark-brown at maturity, marbled with two kinds of numerous, thin, branching veins: the one kind dark-coloured and contain no air (venae lymphaticae, veines aquiferes of Tulasne, venae internae of Vittadini), the other white and conveying air (air-veins, veines aeriferes, venae externae)
Odour: strong, tuber-like, smoked, sometimes garlicky. Easily detectable by truffle dogs, the truffle beetle (Leiodes cinnamomea) and truffle flies (Suillia spp.)
Taste: faint, little persistent, nutty, somewhat tannic.
Habitat
Widespread species associated with deciduous trees and conifers, ripening in late autumn and winter, although you can find them year-round. We harvest them under holm oaks, in calcareous soils, in the same habitat as Tuber melanosporum and Tuber aestivum. They are often under thymes.
Notes:
The variability of this species, both macroscopically and shape and size of the spores, has led to the creation of many different varieties and even new species.
Tuber ferrugineum Vittadini (=Tuber rufum f. ferrugineum (Vittad.) Montecchi et Lazzari) has a brown, minutely papillose peridium with a soft gleba. Tuber requienii Tul et C. Tul is considered by some authors synonymous with Tuber ferrugineum.
Tuber rufum forma lucidum (Bonnet.) Montecchi & Lazzari has a bright black peridium.
Tuber bonneti Roumeguère, synonymized or considered a variety of Tuber rufum, has very small spores (19–22 x 9–12 µm)
Tuber rufum Pico var. nigrum Mattirolo (=Tuber rufum Pico var. oungloun Bonnet, =Tuber rufum Pico f. melanica Cetto) has a black, warted peridium, with flattened, pyramidal warts and large, ellipsoid spores, up to 45 x 28 µm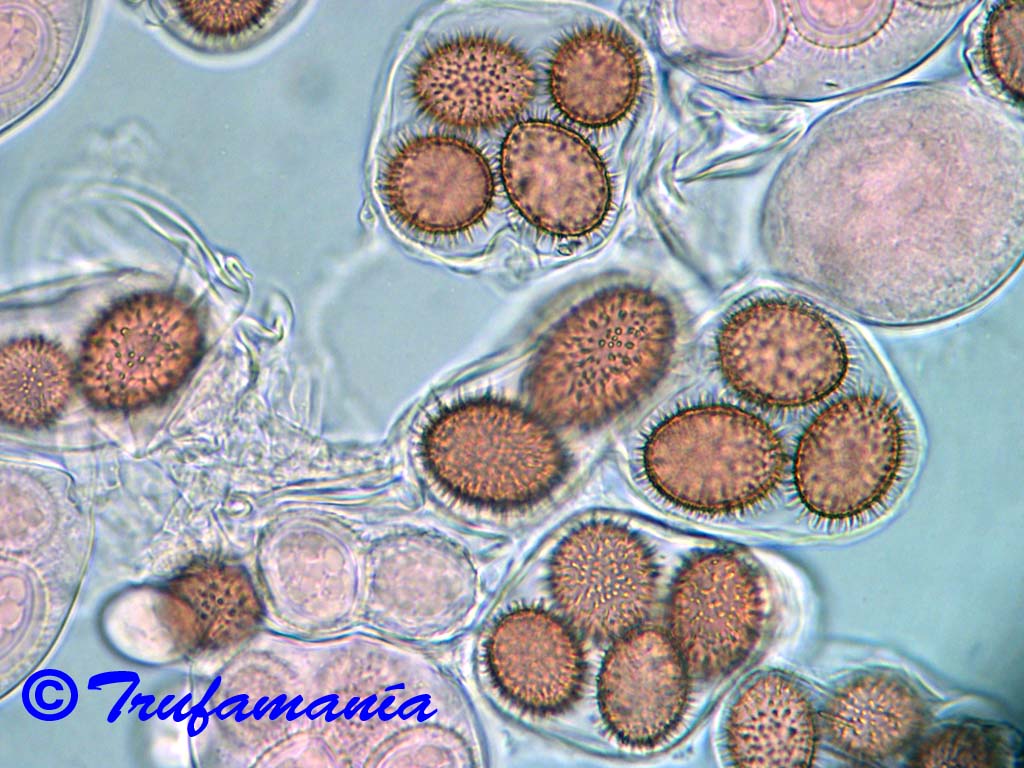 (Click on the picture to see more images)
Microscopic characters:
Asci: subglobose to broadly clavate or pyriform, long or short-stalked, 50–80 x 40–70 µm excluding stalk, 1–4 (–6)-spored (usually 3–4-spored)
Ascospores: 18–29(–35) x 15–20(–27) µm excluding ornament, size variable depending on number of spores in the ascus, Q range = 1,15–1,57, broadly ellipsoid to ovate ellipsoid, yellow ochre, translucent, ornamented with conical spines, separate, 2–4(–5) µm long.
Peridium: 400–500 µm thick, composed of agglutinated, interwoven hyphae (texture intricata), becoming pseudoparenchymatous towards the surface and forming subglobose, thick-walled cells , in a superficial layer 50 µm thick.
---