TUBER PUBERULUM Berkeley & Broome
Annals and Magazine of Natural History 18: 81, without illustration (1846)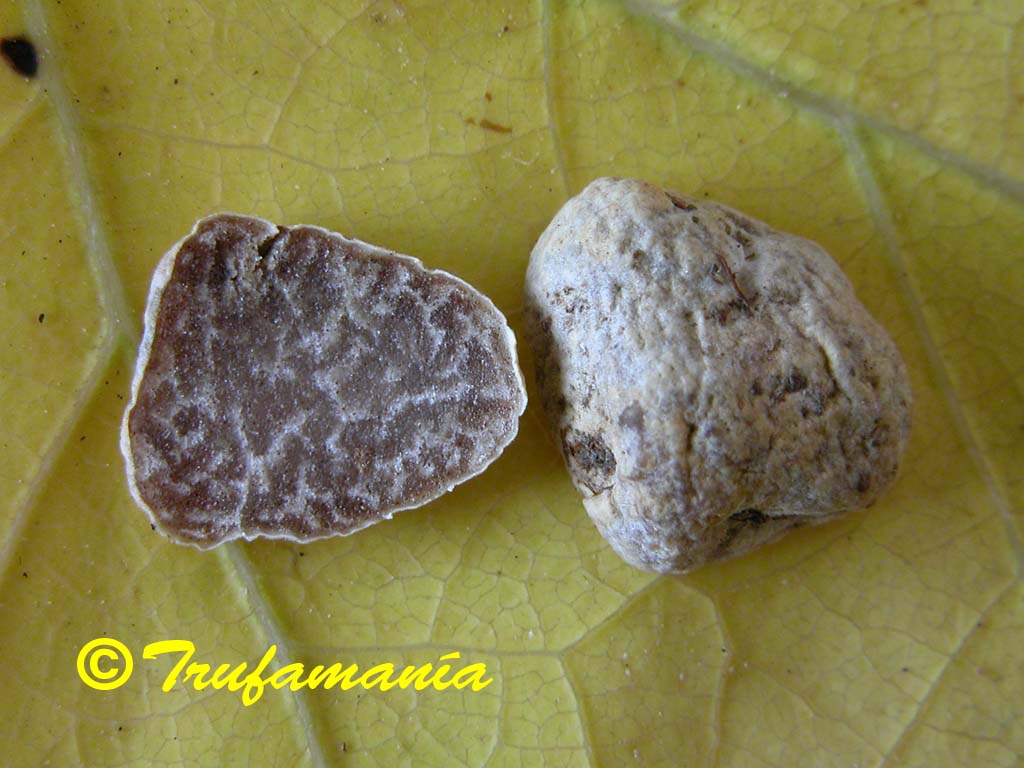 (Click on the picture to see more images)
Synonyms:
Tuber moretii Maire (1924), Bulletin de la Société Mycologique de France 40: 315, pl. 21 fig. 8-9 (1924)
Macroscopic characters:
Ascomata: hypogeous, subglobose or irregular in form, gibbous, 0,5-2 (3) cm in size, smooth, wholly pubescent at first, pubescent in part at maturity, initially whitish, becoming yellowish-brown or reddish brown with brown spots.
Gleba: firm, solid, whitish at first, then light brown, brown pink, marbled with numerous, white, branching veins.
Odour: faint, no distinctive
Taste: faint, no distinctive
Habitat
It is a very common species throughout Europe, in association with conifers or broad-leaved trees. They ripen from spring to autumn.
Notes:
Tuber puberulum is a collective species, with varieties, forms and closely related species. Tuber borchii, Tuber dryophilum, Tuber maculatum y Tuber puberulumare are a white truffles group, with reticulate-alveolate spores, difficult to tell apart. They have similar macroscopic and microscopic characteristics and sometimes they show a range of intermediate forms between several of these species. It is therefore not always possible to differentiate one species from another
Tuber murinum R. Hesse (1894) is very similar to Tuber puberulum and accepted as valid species by most authors.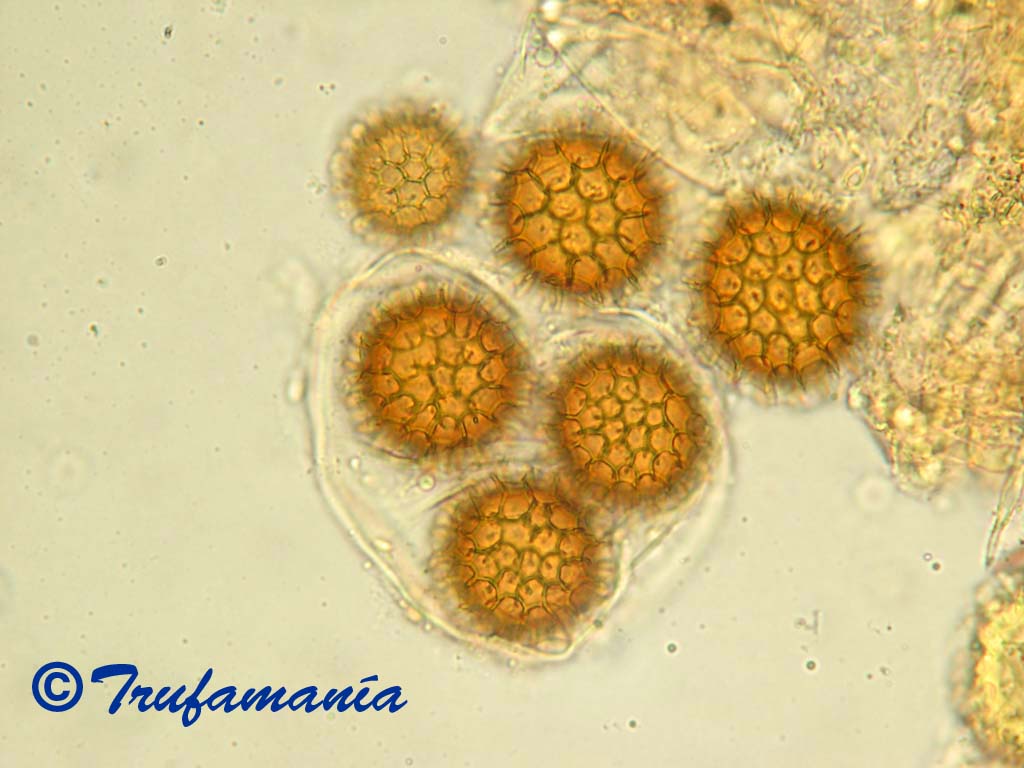 (Click on the picture to see more images)
Microscopic characters:
Asci: subglobose to ovate, sessile or short-stalked, 80-100 x 65-80 µm excluding stalk, 1-4-spored (usually 3-spored).
Ascospores: 28-50 x 28-42 µm excluding ornament, size variable depending on number of spores in the ascus, Q range = 1,00-1,31, subglobose to very broadly ellipsoid, light yellow, reddish brown at maturity, translucent, ornamented with a regular reticulum with meshes 5-7 µm high, 3-7 µm long, 5-8 across width of spore.
Peridium:100-200 µm thick pseudoparenchymatous, composed of small, subglobose to subangular cells, 10-20 µm diam, densely covered with hairs in young specimens. Hairs 50-110 µm long, 4-6 µm across at the base, pale yellow or hyaline, septate, tapered, usually acute at the apex.
---