TUBER NITIDUM Vittadini
Monographia Tuberacearum 48, Tab. II fig. X, Tab. V fig. III (1831)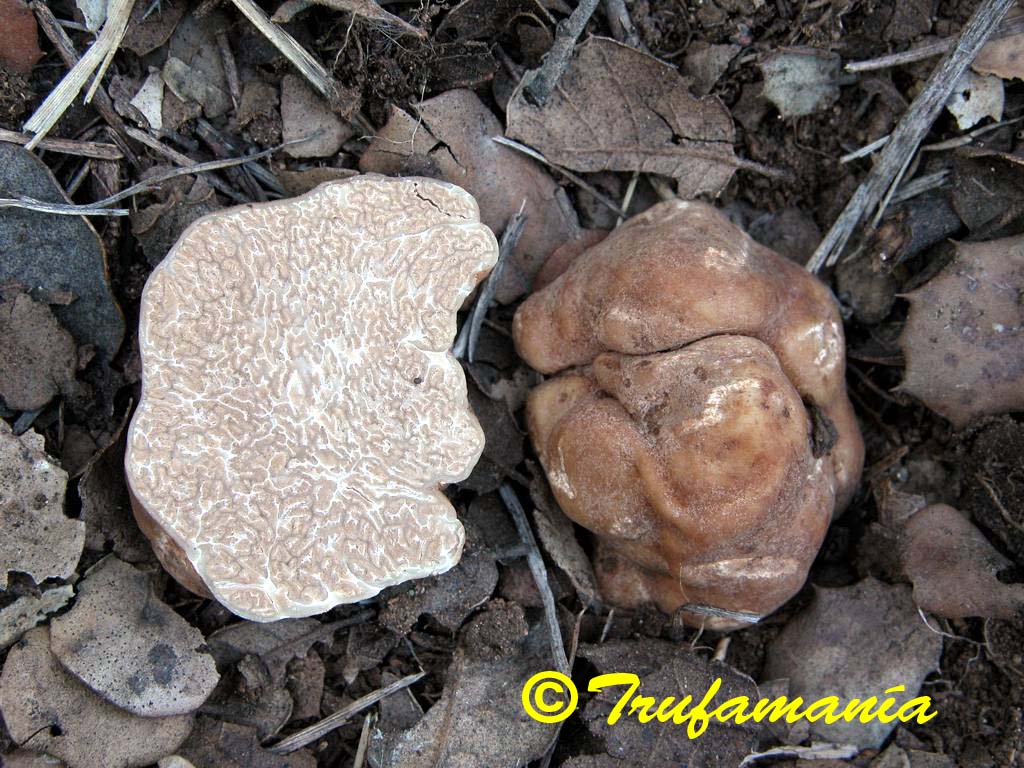 (Click on the picture to see more images)
Synonyms:
Tuber requienii Tul. et C. Tul. var. stramineum Ferry & Quél (1888), C.R. Ass. franc. Av. Sci. 16(2):590
Tuber rufum Pico subsp. nitidum (Vit.) E. Fisher (1897), Ascomyceten: Tuberaceen und Hemiasceen 59
Tuber malacodermum E. Fischer (1923), Verh. Naturf. Ges. Basel 35(1): 49, f. 9
Tuber vacini Velenovský (1947) Opera Botanica Cechica 4:96, Tab. I, f. 27
Tuber rufum Pico forma nitidum (Vit.) Montecchi & Lazzari (1993), Atlante Fotografico di Funghi Ipogei (Trento): 197 (1993)
Tuber candidum Harkn., Proc. Calif. Acad. Sci., Ser. 3, Bot. 1: 274 (1899)
Macroscopic characters:
Ascomata: hypogeous, subglobose or irregular in form, often with a basal cavity very tight, groove-shaped, 1-3,5 cm in size, brown ochre, smooth to subpapillose, something pruinose
Gleba: hard, solid, whitish at first, then light brown, darker at maturity, marbled with two kinds of numerous, thin, branching veins: the one kind dark-coloured and contain no air (venae lymphaticae, veines aquiferes of Tulasne, venae internae of Vittadini), the other white and conveying air (air-veins, veines aeriferes, venae externae).
Odour: strong, tuber-like, sometimes garlicky. Easily detectable by truffle dogs, the truffle beetle (Leiodes cinnamomea) and truffle flies (Suillia spp.)
Taste: faint, little persistent, nutty
Habitat
Widespread species associated with deciduous trees and conifers, ripening in late spring, although you can find them year-round. We harvest them under holm oaks, in calcareous soils, in sunnier and drier places than Tuber rufum, often sharing habitat with Tuber aestivum and Tuber panniferum.
Notes:
Tuber nitidum is not accepted by all authors, who see it as a variety or form of Tuber rufum. Although Tuber nitidum has a smooth peridium unlike the warted and areolate peridium of Tuber rufum, there is no microscopic difference between the two species.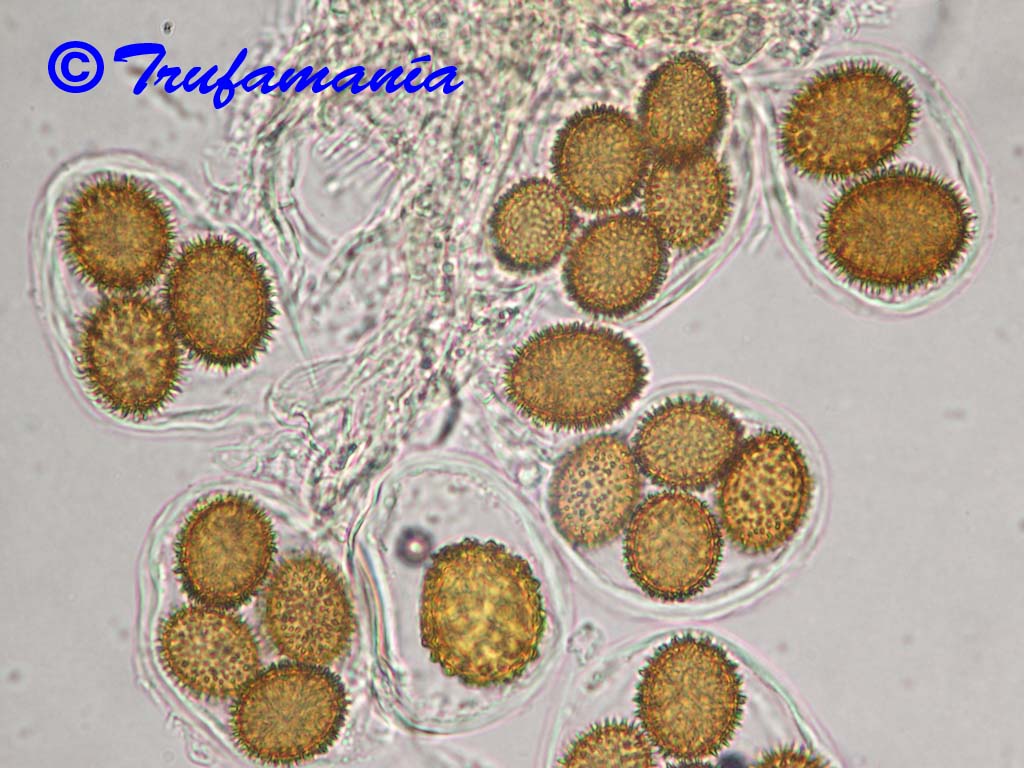 (Click on the picture to see more images)
Microscopic characters:
Asci: subglobose to broadly clavate or pyriform, long or short-stalked, 50-85 x 45-65 µm, excluding stalk, 1-4 (-5)-spored
Ascospores: 20-30 (37) x 16-22 (26) µm, excluding ornament, size variable depending on number of spores in the ascus, Q range = 1,15-1,40, broadly ellipsoid to ovate ellipsoid, yellow ochre, translucent, ornamented with conic spines, separate, 2-3 µm long.
Peridium: 300-400 µm thick, composed of agglutinated, interwoven hyphae.
---