TUBER MELOSPORUM
(G. Moreno, J. Díez & Manjón) P. Alvarado, G. Moreno, J.L. Manjón & Díez
Bol. Soc. Micol. Madrid, 36: 23 (2013)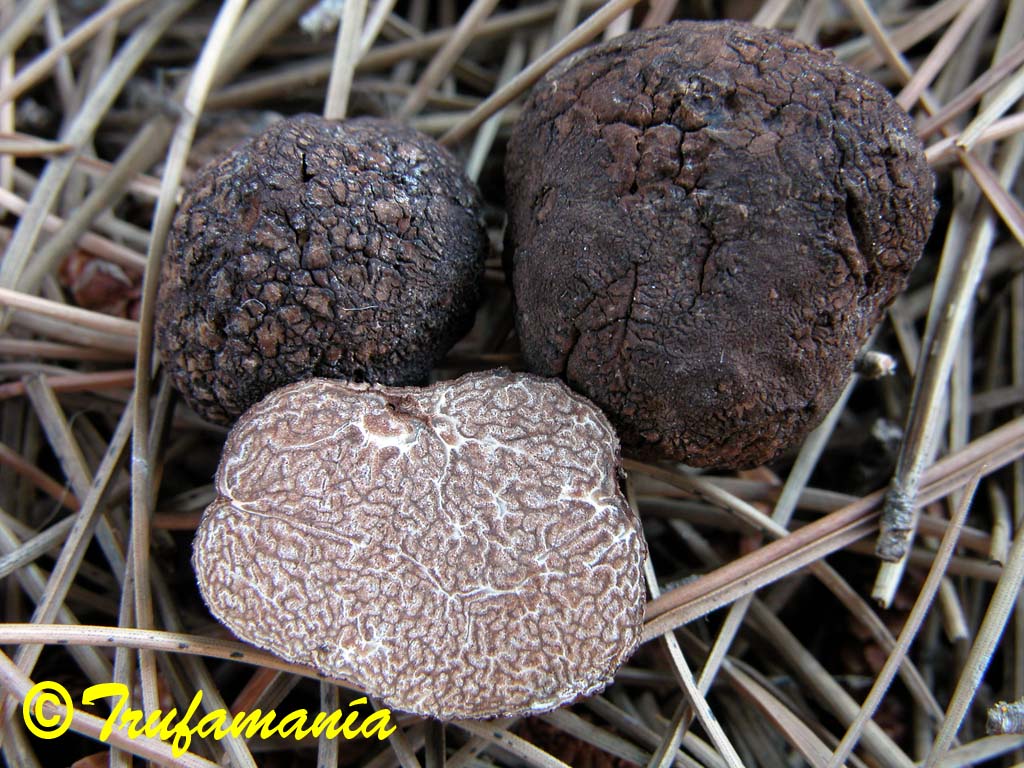 (Click on the picture to see more images)
Basionym:
Picoa melospora G. Moreno, J. Díez & Manjón, Bull. sem. Féd. Assoc. Mycol. mediterr., 18: 88 (2000)
Macroscopic characters:
Ascomata: hypogeous, single to gregarious, subglobose, 1–2(–3) cm in size, reddish brown to dark brownish almost black, cracked, warted. Warts irregular in form and size, flattened.
Peridium: 150–250 µm thick, composed of cylindrical, hyaline, agglutinated, interwoven hyphae 4–5 µm diam, becoming pseudoparenchymatous and pigmented towards the surface, the outermost 40–70 µm composed of subangular, pigmented, thick-walled cells.
Gleba: firm, solid, whitish at first, becoming light-brown, dark-brown at maturity, marbled with meandering, white and dark-coloured veins.
Odour: tuber-like.
Distibution, Habitat and Season:
Tuber melosporum grows in calcareous, clayey, alkaline soils, associated with Pinus spp. and Quercus ilex, with no presence of Helianthemum spp, from May to June.
Notes:
Tuber melosporum is distinguished from all others Tuber species by its smooth spores.
(Click on the picture to see more images)
Microscopic characters:
Asci: inamyloid, ovoid to broadly clavate or pyriform, , with stalk up to 60 µm long, 70–90 x 50–60 µm excluding stalk, 1–4 (–5)-spored.
Ascospores: 26–50(–58) x 17–30 µm, size variable depending on number of spores in the ascus, Q range = 1,24–1,82, ellipsoid, smooth, thick-walled, hyalines at first, yellow ochre at maturity.
---