TUBER EXCAVATUM Vittadini
Monographia Tuberacearum 49, Tab. I fig. VII (1831)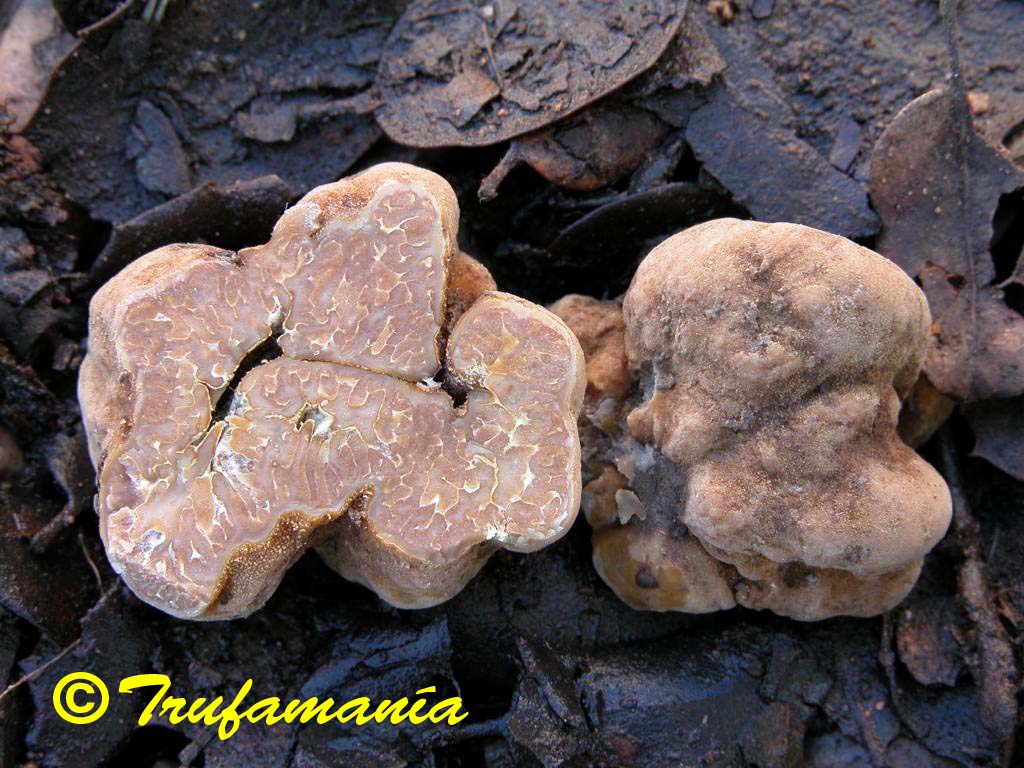 (Click on the picture to see more images)
Synonyms:
Tuber fuscum Corda (1837), in (Corda) Zobel Icones Fungorum 1: 25, t. 7 f. 298
Tuber alatum Corda (1854), in (Corda) Zobel Icones Fungorum 6: 76, t. 20 f. 141
Tuber lapideum Mattirolo (1887), Mem. R. Acad. Sc. Torino Ser. II, 38: 378, t. 1 f. 1,2,10, t. 2 f. 1-6
Macroscopic characters:
Ascomata: hypogeous, irregular in form, lobed, sulcate, sometimes flattened, with a conspicuous basal cavity, 1-4 cm in size (as an exception 6 cm), brown-orangish just when removed from the earth, then ochre or brown, smooth in appearance but minutely papillose under the lens
Gleba: hard, solid, brown-ochre, reddish brown at maturity, marbled with yellowish, branching veins which often arise from the base and are radially arranged.
Odour: more or less intense according to truffe ripen, tuber-like, sometimes garlicky, unpleasant at full maturity. Easily detectable by truffle dogs, the truffle beetle (Leiodes cinnamomea) and truffle flies (Suillia spp.).
Taste: faint, tuber-like
Habitat
Calcareous soils, associated with deciduous trees and conifers. Tuber excavatum is a very common truffle. They ripen throughout the year if conditions are favorable. We find ripe truffless under oaks in summer and winter, up to 1600 metres of altitude.
Notes:
Tuber excavatum Vittadini var. sulphureum G. & L. Riousset has a sulfur yellow peridium. It ripen in spring.
Tuber excavatum Vittadini forma monticellianum (Vittadini) Ceruti; = Tuber lapideum Mattirolo, has an ochre peridium with shades of gray and green olive and a purplish brown gleba.
Tuber fulgens Quélet 1880 (= Tuber excavatum subsp. fulgens (Quélet) Fisher 1897) is similar to Tuber excavatum but most of spores are globoses.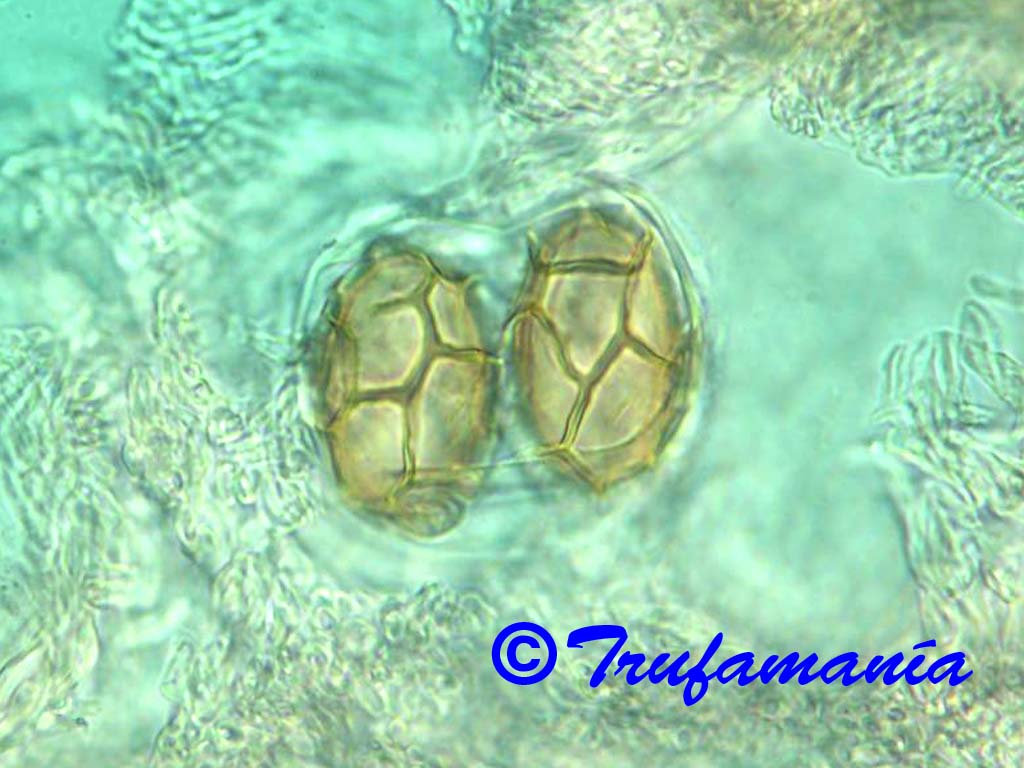 (Click on the picture to see more images)
Microscopic characters:
Asci: subglobose to ellipsoid, sessile or short-stalked, 65-110 x 60-80 µm, 1-4 (-5)-spored (usually 3-4-spored).
Ascospores: 30-50 x 22-32 µm excluding ornament, size variable depending on number of spores in the ascus, Q range = 1,36-1,60, ellipsoid, yellow, yellow brown at maturity, translucent, ornamented with a coarse irregular reticulum with meshes 4-6 µm high, up to 22 µm long, 2-4 across width of spore.
Peridium: 200-360 (-500) µm thick, yellowish in section, composed of agglutinated, interwoven, thick-walled hyphae, larger near the surface and forming subglobose cells of 10-15 µm, in a superficial layer 50-70 µm thick
---