TERFEZIA ELIOCROCAE Bordallo, Morte & Honrubia
Mycotaxon 124: 196 (2013)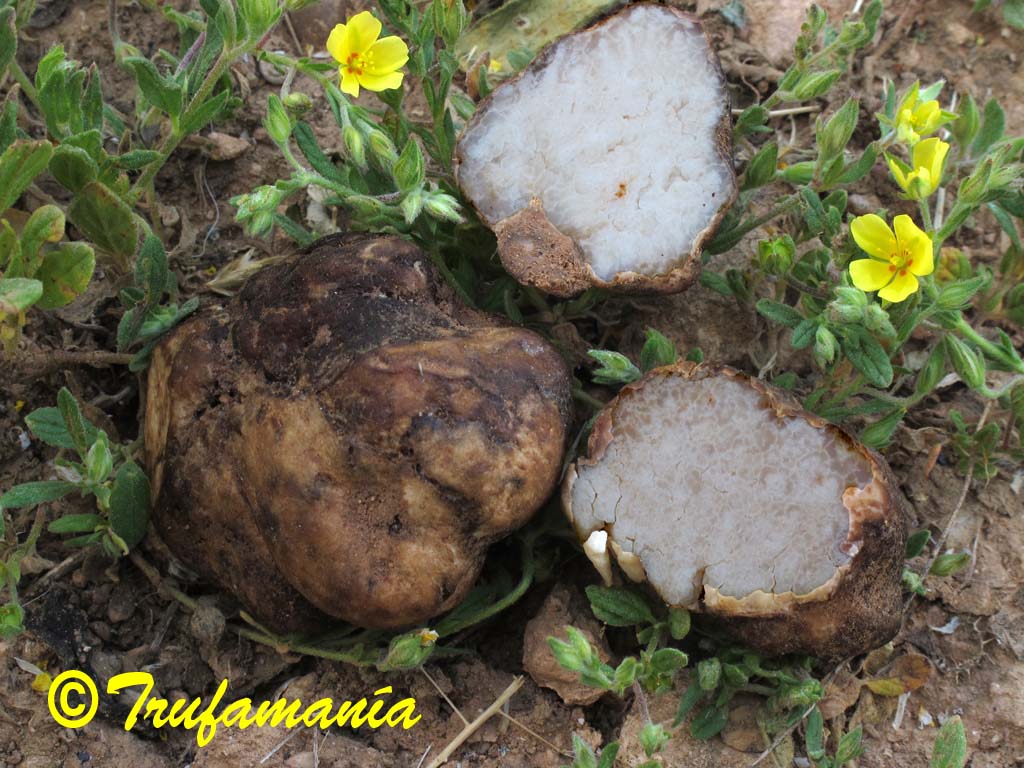 (Click on the picture to see more images)
Macroscopic characters:
Ascomata: hypogeous to partially emergent at maturity, 3–7 cm in size, subglobose to turbinate, rounded sterile base with a mycelial tuft, whitish at first, becoming light brown, smooth.
Peridium: 200–400 µm thick, well delimited, pseudoparenchymatous, composed of subglobose cells, hyalines and thin-walled in the innermost layers, yellowish and with thicker walls in the outermost layers, sometimes with repent to erect hyphae
Gleba: solid, fleshy, succulent, friable, white even at maturity, with light rose pockets of fertile tissue separated by an abundant, conspicuous white sterile tissue.
Odour: faint, no distinctive
Taste: mild.
Distibution, Habitat and Season:
Southeast of the Iberian Peninsula, limited to arid and semiarid areas, in calcareous, alkaline soils, associated with Helianthemum spp., from April to May, sharing habitat with Terfezia clavery.
Comments:
Terfezia eliocrocae differs in the white, friable gleba, softer than T. claveryi gleba, in pyriform, long-stalked asci, in reticulated spores, 16–18 µm in size including ornament.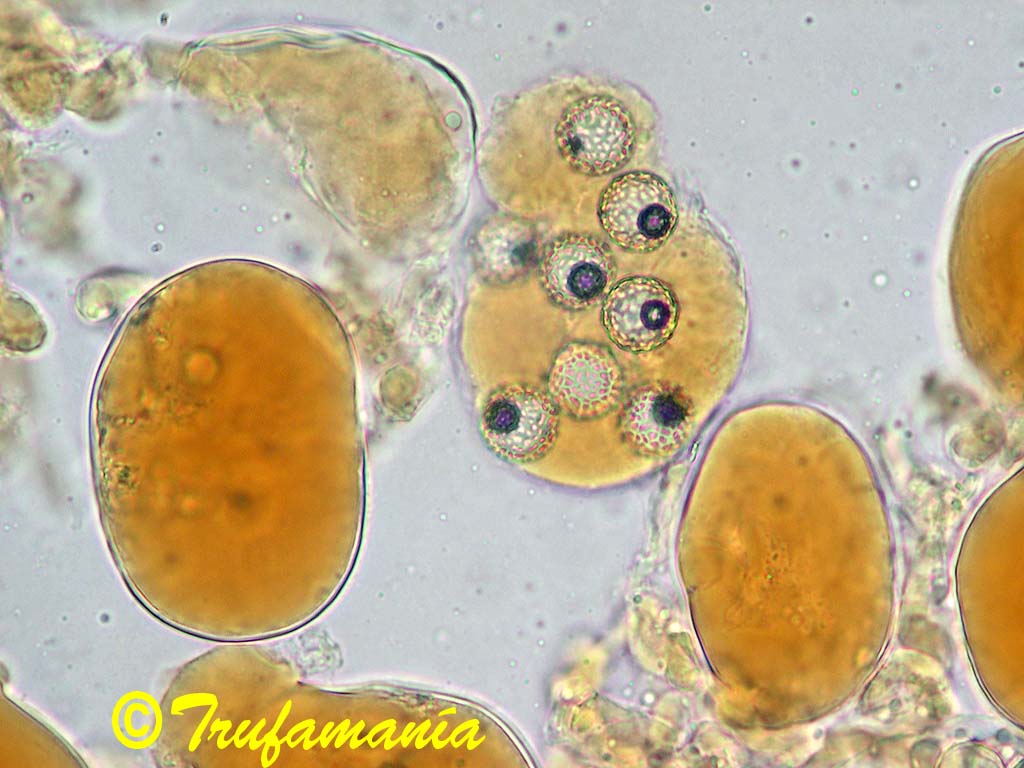 (Click on the picture to see more images)
Microscopic characters:
Asci: nonamyloid, ellipsoid to pyriform, long or short-stalked, 60–90 x 45–55 µm excluding stalk, walls 1–2 µm thick, with 6–8 irregularly disposed spores, randomly arranged in the gleba.
Ascospores: globose, (15–)16–18(–19) µm diam (median = 17 µm) including ornament, hyaline and smooth at first, by maturity yellow and ornamented with rounded, sometimes truncated warts, up to 2 µm tall and 2 µm broad at the base, forming.a well-developed, small-meshed reticulum, polygonal meshes variable in form and size, 0,5-1 µm thick, 1 µm tall.
---